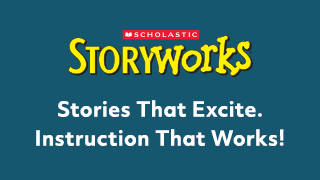 Unleash the Power of Extraordinary Texts
That Get Kids Reading, Learning & Talking
Learning to read is an adventure, and no one takes that idea more seriously than Storyworks, the thrilling multigenre ELA magazines for Grades 1–6. All year long, students engage with our authentic, edge-of-your-seat stories that enrich their knowledge, open their hearts, and propel them on a lifetime of literacy.
Access Ready-to-Go Teaching Kits,
Sure to Inspire and Captivate Your Students
Stories are at the heart of what we do, yet they're just the beginning. Every text comes with a complete ELA teaching kit for powerful, pedagogy-based lessons that build knowledge, skills, and engagement. Learning, amplified. Planning, simplified. You, empowered.
Drive Skills Acquisition and Knowledge Development
with Thoughtful Reading Experiences
When a child believes "I'm a good reader," they read more, learn more, and achieve more. Storyworks cultivates that confidence, guiding them through a skills progression each year, every year, with meaningful activities.
Try Storyworks Free for Yourself

Fascinate readers and spark lively discussions with a magazine for every student. Crafted to connect with kids' interests, experiences, and reading levels, our relevant stories get them talking outside the classroom. That's the Storyworks effect. Try us now!
Easy to Implement, Fun to Teach
While you support your students, Storyworks supports you. Be prepared, confident, and inspired from day one with our comprehensive instructional support. Calibrated to your teaching goals, it makes implementation easy and effective.
Why Teachers Love #Storyworks
See how teachers are using our engaging and flexible resource right now!